Profile
Caveat Lector
Gladly Suffering from Hypergraphia
Free Account
Created on 2009-07-11 21:49:48 (#422027), last updated 2011-09-11 (315 weeks ago)
13,712 comments received, 77 comments posted
866 Journal Entries, 97 Tags, 0 Memories, 15 Icons

About

Mini Bio
Update: YAY, I'm actually really published now!
*Check out www.yaoimagazine.com to read a sample of the short story they're publishing.
*Also, check out
Lulu.com
for a digital download of my Ten Dime Novel short story!
Welcome, one and all, to my little fic-blog. It's linked to my fanfiction.net profile, so everyone can see how my fiction is coming along... and the excuses I make up for not writing as much as I should.
Fic challenges and requests can be made at my hotmail account above, I love getting email.
Friending Policy
Everyone is free to friend me; however, since all of my fiction is published for everyone to see, please don't get offended if I don't friend you back.
Awards, Banners, and Pretties
dwtwslashawards, 2008
Awards

Best Romance Fic for Deviations from the Norm
Runner up: Best Gwen Characterization, Deviations from the Norm

Nominated
Best Romance Fic for Deviations from the Norm
Best Gwen Characterization, Deviations from the Norm
Best Death Fic: Sonata for the TARDIS in D
Best Work in Progress: Deviations from the Norm
Best Tosh Characterization: Deviations from the Norm
Best Jack/Ianto Fic (G - PG-13): Deviations from the Norm


Round One of the Children of Time Awards, 2008

Awards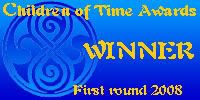 Winner, Doctor Who/Torchwood Crossovers: Different Sort of Science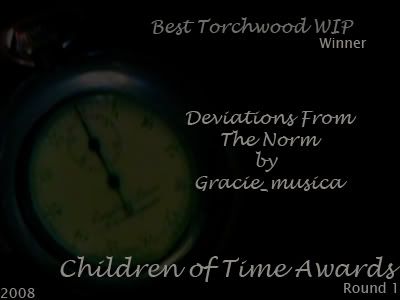 Winner, Torchwood -- WIP: Deviations from the Norm


Runner Up, Doctor Who -- Time Travel: Sonata for the TARDIS in D

Nominated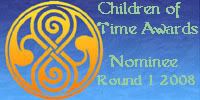 Doctor Who/Torchwood Crossovers and Series -- Torchwood: Different Sort of Science
Drama -- Torchwood, Doctor Who/Torchwood Crossovers, and WIP -- Torchwood: Slipping Through
Romance -- Torchwood, Doctor Who/Torchwood Crossovers, and Series -- Torchwood: Resonating Through Time
Romance -- Torchwood, Doctor Who/Torchwood Crossovers, and WIP -- Torchwood: Deviations from the Norm
Time Travel -- Doctor Who, Doctor Who/Torchwood Crossovers, and WIP -- Doctor Who: Sonata for the TARDIS in D


Round Two of the Children of Time Awards, 2009

Nominated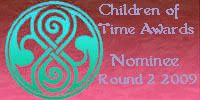 Torchwood -- Crossover and Torchwood -- WIP: Slipping Through
Torchwood -- Jack/Ianto: To Days To Come
Torchwood -- WIP: Footnotes
Torchwood -- Favorite Author
Torchwood -- Alternate Reality/Alternate Universe: Resonating Through Time



forbiddenawards Round 10, 2009

Nominated
Kiss and Bang Award (best slash): Different Sort of Science
The Raunchy Rift Award (best crossover): Slipping Through


Round Three of the Children of Time Awards, 2009

Awards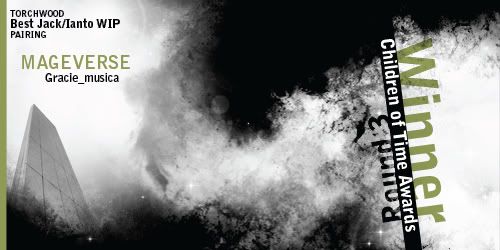 Winner, Torchwood -- Jack/Ianto WIP, Mageverse (Different Sort of Science, To Days To Come, and Different Kind of Magic)



Winner, Torchwood -- Captain Jack, Queen and Country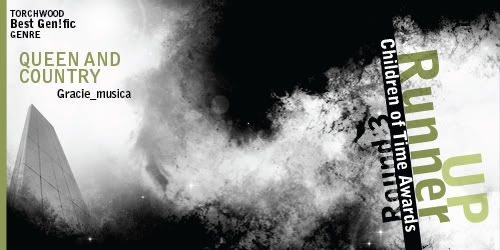 Runner Up, Torchwood -- Genfic, Queen and Country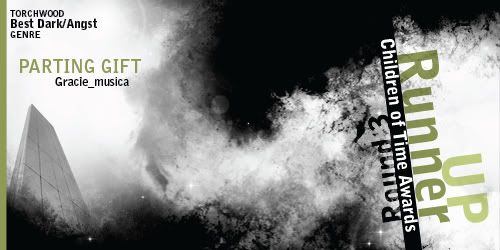 Runner Up, Torchwood -- Darkfic, Parting Gift

Nominated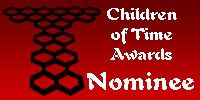 Torchwood -- Character: Captain Jack Harkness, Genfic, and Ficlet: Queen and Country
Torchwood -- Dark/Angst: Parting Gift
Torchwood -- WIP -- Jack/Ianto: Mageverse (Different Sort of Science, To Days To Come, and Different Kind of Magic)


Connect
anime
,
cardcaptor sakura
,
clamp
,
detective conan
,
doctor who
,
douglas adams
,
fanfiction
,
fantasy
,
gundam wing
,
magic kaito
,
manga
,
movies
,
saiyuki
,
swimming
,
torchwood
,
trigun
,
writing
,
x/1999
gracelynemusica

People
[View Entries]

Communities
[View entries]

Member Of (1):

Subscriptions (3):

Administrator Of (1):

Feeds
[View Entries]

Subscriptions (0)

Linking
To link to this user, copy this code:
On Dreamwidth:
Elsewhere: